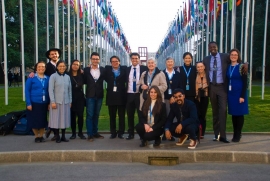 Some of our volunteers are already aware, but for those who are not, we are fortunate to have a link with the Human Rights Office in Geneva.
IIMA (lstituto lnternazionale Maria Ausiliatrice also known as the Salesian Sisters) obtained special consultative status with the United Nations Economic and Social Council in 2008. Since then, they have contributed to the work of the Human Rights Council, the Universal Periodic Review and Treaty Bodies through the IIMA Human Rights Office in Geneva. The Office also represents VIDES International at the UN which Vides Ireland also works closely with.
We've included the link to their website below where you can keep up to date with their activities, reports and events.