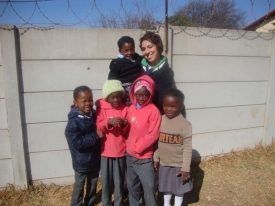 Never did I think I'd be going to South Africa this summer. I suppose it all started when I was a child. I've always wanted to Volunteer and help children who are less fortunate. From a very young age, my mother inspired me; she always explained that helping other people was a generous and a heart warming thing to do. The second person who influenced me to volunteer was my primary school teacher, Sandra Larkin at Milford National School which I attended. On mission Sunday, she spoke to us on her volunteering experiences in Swaziland. As I listened to her fantastic and inspiring story, I was hooked. I chose the organisation VIDES Ireland – a voluntary organisation for young people wishing to do some volunteer work in South Africa and Zambia during the summer months. This is a mission of the Salesian Sisters.
I left Ireland on the 19th of June for South Africa. Another volunteer Kieran Devine, from Tyrone, travelled with me. It was tough leaving family and friends behind but the experience was well worth while. We arrived in Johannesburg early Monday morning and we were met by the three Salesian Sisters. Sr Margaret, Sr Theresa and Sr Mary-John. We travelled to Finetown with Sr Margaret which was where we were to spend the next eight weeks.
Finetown is a large squatter camp or shanty town south of Johannesburg. It is economically deprived and there is social deprivation all around. The families live in dire poverty. There is ill health, unemployment and family disintegration. The children, who attend the Salesian project, come hungry to school so they are provided with two meals each day. Many of the children are unable to read or write and would need one to one tuition. Many children are given food parcels to take home in the evenings. Some children are H.I.V positive. Esther, the family support worker in the school, took me around Finetown when she was visiting families. I saw first hand the harsh living conditions of the parents of the children who were in our school. Families lived in shacks without water, light and sanitary conditions. Despite all these awful conditions, the children were always smiling and happy. Music and singing was a very important part of their daily education and experiences at the Salesian project.
The school we were working in, was an NGO ( Non – Government Organisation) school, and it doubled as a drop in centre for the children. Although the daily routines made it seem like a real school, it was a way to keep the children off the streets. The teachers do a fantastic job with the children. Not only do they teach them but they show them love to which they may not get at home.
My role in Finetown involved one to one teaching support of English to six children in helping them to improve on their reading, writing and spelling. We were also involved in sports activities for the winter camps for when they were on school holidays. I provided learning support material in the form of jigsaws, colouring books, pencils and other educational aids.
My eight weeks of volunteering in Finetown was amazing. I experienced such a joy and warmth working with little bright eyed smiling faces everyday. The wonderful work and dedication of the Sisters there has to be commended.
Should anyone be interested in volunteering next Summer please contact Dympna at 061 348510